St George Residential Duct Cleaning Services
Professional Home Duct Cleaning Services
Thorough duct cleaning for your home's vents & ducts
Quickly & Effectively Destroy Sources of Illness
Quickly & Effectively Destroy Sources of Illness
very good group of guys. very knowledgeable of what they do and offer a very fair price. recommend them for sure!
Very professional and explained the process thoroughly. Will definitely recommend.
Very efficient
Devin Chadburn
2023-05-01
Very professional & amazing service. Very impressive. I would recommend Airvax to other's in a heartbeat! My favorite part is the plant based option for cleaning.
Hans Chamberlain
2023-04-20
Did a good job.
Not cheap but worth it . Guys were great, very professional, we are very happy with quality of work !
Our Cleaning Process
Our Technicians follow the duct-cleaning guidelines established by the National Air Duct Cleaners Association (NADCA) guidelines. The Technicians will inspect your system before starting, making sure all components are functioning properly and working, Then the technician covers the floor and installs corner guards  to prevent damage to your home, attaches a powerful vacuum at the unit or duct, then uses specialized whips and brushes to scrub and clean the inside of the ducts.We clean all supply air ducts and return ducts. All the Outlet registers will be removed and thoroughly washed from dirt and debris. Condenser/ Heating and Cooling Coils will be washed and cleaned with a soft power wash and Coil solution, The Air Handling Unit and all components inside will be thoroughly cleaned and Serviced. We finish by using a safe and pet friendly EPA registered disinfectant that we spray through the system that disinfects/ sanitizes your ducts killing any pathogens,spores,mold and other viruses. Lastly we replace any dirty filters with new ones giving your system a fresh start. Call us at 435- to schedule your appointment
 How Long does Air Duct cleaning take?  
A lot of people find themselves wondering how long does Air Duct Cleaning take. This is a common question that you should not feel silly for asking. Taking care of your air ducts is an important part of your indoor air quality and ensuring the longevity of your heating and cooling system. Most systems have ten to fifteen vents that will need to be cleaned. If you have a two-man team working on your system in tandem, you can expect the entire cleaning process to last anywhere between two and four hours. This is just an estimate of how long it will take to get your ductwork cleaned. The actual time it will take depends on a number of different factors, such as how many vents you have, how many workers are available, and how dirty the vents are. If you have extremely dirty vents, it may take a bit longer for a team to have them in tip-top shape.
St George Residential Duct Cleaning Services
Why Air Duct cleaning?
Air ducts are the delivery mechanism for a home or businesses heating and cooling system. Many times air ducts are referred to as the "lungs" of the home, meaning they breathe air in and exhale air out. They connect to the furnace or air conditioning system and transport the conditioned air to the living or office space.
 We spend a lot of time indoors; according to the Indoor Air Quality Association (IAQA), most people spend 90% of their time indoors. The more time people spend indoors, the more sensitive they become to indoor air pollutants like dust, dust mites, bacteria, and microorganisms that come into the home through air ducts. Cleaning dirty air ducts brings relief to people who suffer from indoor allergens. Our customers have reported this to us for years, and we've certainly noticed this ourselves after cleaning the ducts in our own homes.
The Problem with Dirty Ducts
The biggest problem with dirty ducts is the health issues they cause for everyone in the building. When dust, dirt, and debris line the duct and grilles, some particles are blown out of the vents and into the breathing area, causing itchy eyes, runny noses, and even coughing. But this is only one problem; the cost of your heating and cooling bill will also be affected dramatically as Dust and debris Collect.
When air ducts are clogged with debris, the system will have to work harder in order to reach the desired temperature for the property. This decreases the efficiency of the system due to the foreign particles and increases the total cost of your bill each month.
But the technicians at Air Vax ensure to keep this in mind while cleaning the ducts. They can also provide some tips to maintain the clean condition in the duct to prevent the deficiency problem in the future.
NADCA (National Air Duct Association) recommends cleaning your air duct system every 2-5 years depending on your environment and how well the HVAC system is maintained  or if you've had remodel construction, water damage or mold remediation and restoration. But, if you can't remember the last time you had an air duct cleaning call Air Vax!
 There are many reasons your home or business may have poor indoor air quality:
Reasons to clean your ducts:
Start Living Healthier Today!
Contact us today to get your free quote and consultation.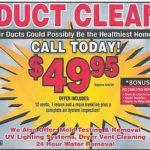 SCAM
Cheap companies with outdated machines and poorly-trained equipment operators who offer $49 or $69 coupons for duct cleaning. They use bait-and-switch methods often leaving the final bill well over than you expected.
SIDE JOB
Carpet Cleaning, Heating & Cooling companies that clean air ducts on the side, who don't invest in advanced equipment or training. You don't want to clean your duct system with carpet-cleaning equipment.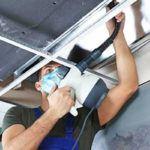 PROFESSIONALS
Professional air duct cleaning companies that continually invest in the most up-to-date equipment and training for their technicians, so they can deliver the best service to their customers.